Netroomz + Freeloader

How Freeloader Works?
The best thing about Freeloader is that all the work is done for you behind the scenes. After set up, it buzzes along in the background, taking all the work of rate updates at different websites out of the equation and adding in all the benefits of showing accurate rates online, where your customers are booking!

Update from anywhere to anywhere

Freeloader works with all major third party booking websites. New websites are being added continously, ensuring you can get the widest reach of your rooms and rates. Since it is a web-based hosted and managed system, you can access it wherever and whenever you have internet access. No need for you to install any software or to arrange hosting.
Two-way functionality
Freeloader can update rates, availability and inclusions on third party websites – and lets you manage a single allocation of rooms across all sites as well.
Flexibility
With Freeloader, it lets you set different rates per website and lets you offset the number of rooms to sell per website. You can either choose whether you want to deplete rooms to sell from a single allocation, or manage it site by site. You can have different rates and / or allotments per website as much as you wish.
Full-control
You're in the driver's seat. You have full control of which websites are configured, mappings, depletion of allotments and so forth. Use our Setup Wizard to guide you through the setup process.
Fast
View actual rates and allotments that are loaded on all your third party websites on a single screen. No need for additional time-consuming clicks and long loading times.
Proven and Realible
Freeloader is developed and supported by the people behind Netroomz, a proven performer in online accommodation bookings.
Cost-Effective
If you use Netroomz as your web booking engine Freeloader is provided free of charge. If not, there is a small flat monthly fee of $49 plus GST.
Ready to see what Freeloader can do for your hotel?

Freeloader works with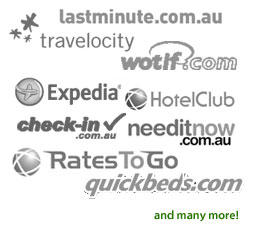 Contact Freeloader
Freeloader Pty Ltd
G5, 56 Delhi Road
North Ryde
NSW 2113 Australia
Phone: (02) 9889 4326
Fax: (02) 9475 4162
E-mail: contact@thefreeloader.com.au
URL: http://www.thefreeloader.com.au